Important!
Registration will open on 12th July, at 17:00 in the Grand Hotel Union Grand Foyer. The registration will be followed by Icebreaker reception at Grand Hotel Union Garden at 19:00 - be sure not to miss it.
Grand Hotel Union - Your conference venue
The Grand Hotel Union is the exclusive location for EWLA2016 in the heart of Ljubljana. This elegant hotel in Art Nouveau style held its grand opening in 1905. It was the first modern hotel in Ljubljana and at the time the highest building. The hotel is located where the Baroque part of the city ends and the more modern Art Nouveau part begins. Due to its 100 meters long façade and a complex iron roof, it is considered to be a great architectural achievement.
---
Ljubljana - Your host city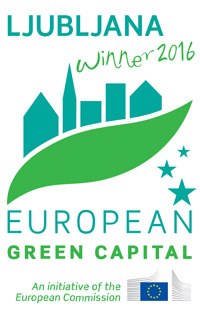 Ljubljana is the capital of Slovenia, but it is small and pretty, easy to get around, and full of surprises. While during winter it is its dreamy central European character that prevails, during summer it has a relaxed Mediterranean feel to it. It is remarkable for its rich tradition, youthful vibrancy, cultural creativity, feel for entertainment, and numerous green spaces.
Ljubljana's surrounding areas, packed with natural beauty and cultural sights bearing witness to the city's dynamic history, are well known for their walking, hiking and cycling paths and traditional culinary delights. As distances within Slovenia are short, Ljubljana is a perfect base for exploring Slovenia's diverse beauty. Within a single day you can visit the coast and high mountains and experience the Mediterranean, Alpine and continental climate.
Ljubljana has preserved evidence of all the five millennia of its history, including, among others, the remains of the Roman city of Emona and the old city center with its medieval castle and beautiful buildings with Baroque façades, decorative portals and uneven roofs. Other significant parts in the mosaic of Ljubljana are its picturesque bridges across the river Ljubljanica and its vast Tivoli park, stretching into the very city center.
In the second half of the 20th century, it was the world famous architect Jože Plečnik that put an indelible personal stamp on his native city, and the so-called Plečnik's Ljubljana ranks among the 20th century's most prominent total works of art. Ljubljana's appearance was further shaped by Plečnik's pupils and a whole new wave of renowned young Slovenian architects.
Source: www.slovenia.info
Slovenia - your host country
The Republic of Slovenia is situated in the heart of Europe, where the Alps face the Pannonian plains and the Mediterranean meets the mysterious Karst.
Area: 20,273 km2
Population: 2,046,976 (January 1, 2010)
Capital city: Ljubljana
Language: Slovenian (also Italian and Hungarian in nationally mixed areas)
Religion: According to the 2002 census, 58 % of the population is Roman Catholic, 23 % is "other or unspecified" religion, 2 % is Muslim, 2 % is Orthodox Christian, and 1 % is "other Christian."
Spoken languages: most Slovenians speak at least one foreign language, especially English
Currency: Euro (since January 1, 2007)
Neighboring countries: Austria (north); Hungary (north-east); Croatia (south-east); Italy (west)
More information: www.slovenia.info; www.slovenia.si; www.gov.si